Highly collectable die cast models from So Real Concepts
RCTalk is supported by our readers. When you purchase through links on our site, we may earn an affiliate commission. Learn more
So Real Concepts a branch off of Pro-line Racing has put together some highly collectable 1:24 die cast models. For their first round of collectable cars So Real Concepts has started with the new Hummer H2 SUT and Hummer H2 SUV models.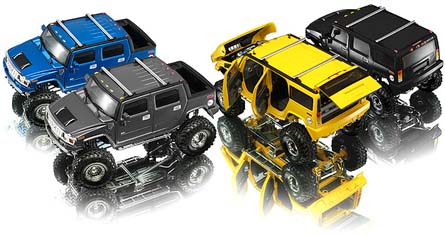 The Limited Edition H2 replicas feature a unique wheel mounting system, allowing further customization with authentically replicated wheels and tires. This is just one of many features that make SoReal replicas just SO REAL, and that's just the beginning.
The So Real Concepts Hummer feature fully functional doors, as well as the side and rear windows feature custom tint. The fully functional hood, doors, & rear hatch allow you access to all the interior features. Included with your So Real Concepts model is a special tool, a pick, designed to aid in activating many of the functional details of the model without having to touch your model by hand thus reducing finger prints and smudges. The HUMMER SUV and SUT both come with color matched front and rear bumpers, fender flares, mirrors, door handles, and frame rails. High quality polished chrome accents throughout the body and suspension add a custom touch to these So Real Concepts models.
Each H2 comes with 2 sets of officially licensed wheels and tires. Using a patented interchange system you can swap the wheels and tires on your model in a few quick steps. This is a Limited Edition feature! The chassis features authentically replicated aftermarket performance parts and suspension accessories. The entire suspension is polished and painted to match the exterior of the truck, and the detailed chassis and drivetrain parts are painted just like the real H2!
The interior of the So Real Concepts HUMMER H2 has been replicated with exacting detail. Custom touches finish off the dash, seats and door panels. No custom ride is complete without a massive sound system. The So Real HUMMER H2 features a rack of amps in the back, and upgraded speakers and subwoofers throughout the cabin.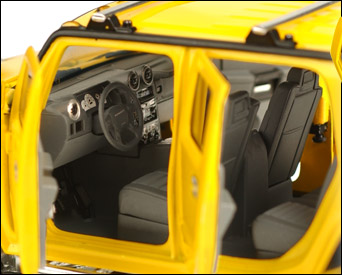 Discuss the new So Real Concepts models in our General Chaos forum!