RCTalk is supported by our readers. When you purchase through links on our site, we may earn an affiliate commission. Learn more
Just when you thought HPI couldn't top themselves they go out and turn an already powerful truck into a speed deamon with their new 3-speed tranny which is to be released BEFORE Christmas!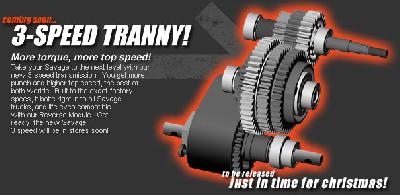 Savage owners, get ready to smoke the competition! We've taken the best of everything and added an extra gear to the already powerful Savage transmission! This monster evolution uses Steel Gears to handle all that extra punch! 10% higher top speed! 10% more torque! Go faster, get there faster, drive longer! Price, part number, and more detailed specs coming soon!