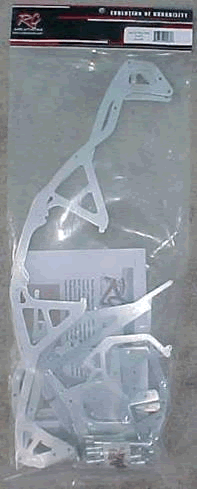 What's included
Unassembled Cage (comes in silver, blue and red) with Stainless Screws
RC Solutions Stickers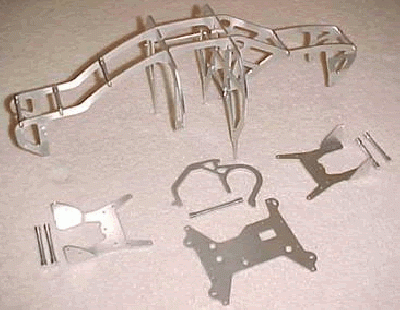 Assembly
Assembly of the cage is really simple and takes about 5 minutes. Be sure to blue thread lock so none of the screws vibrate loose.
Mounting
In order to install the cage on the LST, you will first have to remove a few parts. The fuel tank and gear cover is removed for ease of installation and will be reinstalled later. The transmission plate and both upper shock plates are removed and replaced with parts from the cage kit. Be sure to remove the black plastic fuel tank mount from the stock rear plate and install it on the new rear plate.
Once you get the RC Solutions plates installed, you are ready to mount the cage. The cage easily installs onto the new mounts and is held in place by 4 screws in both the front and rear, and a few clips on the sides.
Almost forgot, be sure to reinstall the fuel tank before you install the cage. If you don't, you will be taking the cage off in order to install the tank just like I did.
You will need to cut the rear window of your body in order for it to clear the cage. Not much cutting on the bed of the body since the stock LST body already has a large cut out to access the fuel tank.
General Impression
Thumbs-up to RC Solutions for utilizing the stock mounts. Makes for a nice clean look.
The only problem I have with the kit is the fact that the included skid plate is NOT countersunk. Why not RC Solutions? This looks to me like problems just waiting to happen. The stock plate is countersunk, so the replacement should also be. The heads of the cap screws will easily get damaged and become difficult to remove since they are sticking out. I may countersink the holes myself in the future when I get around to getting the right size bit.
Other than that, I think the cage is an excellent upgrade for the LST. Makes it look like a tank and offers full protection of your expensive engine. It is easy to remove and reinstall, and you are still able to access key components on the chassis. The total weight gain is only about 14ozs.
I should note that although the cage add strength and protection to your truck, it is not indestructible. Certain impacts can bend the cage so you should always drive the truck with the body on. With the body installed, the truck is able to skid across the ground. Without the body, the cage could dig into the ground and stick, which is more likely to bend the cage.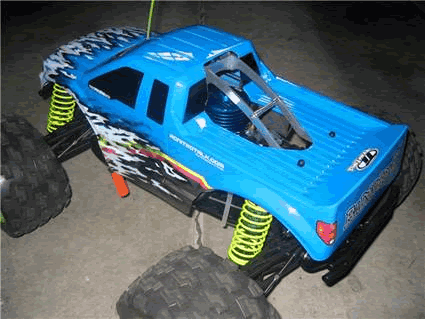 The Ups
Solid construction
Offers complete protection
Looks great and is just plain cool
The downs
Mounting holes in skid plates are not countersunk
A bit pricey at $149.95
Where to get it
Check out RC Solutions website for information on where to get them!
Final Rating 9/10 Excellent upgrade for hardcore bashers. They just need to countersink the holes in the skid plate
robmob