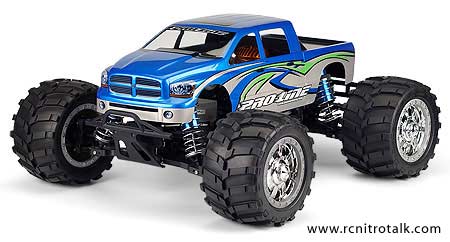 Proline has just released it's version of the Dodge Mega Cab body – replicated from the Dodge Ram Mega Cab which was unveiled in 2005 as the largest cab passenger truck in the planet. Pro-Line brings you that same huge design in Monster Truck form. Introducing the Dodge Ram Mega Cab for a variety of today's monster trucks including the T-Maxx, Savage, Revo, LST, MGT, Warhead, and Genesis
The Mega Cab is mega. That's why it only makes sense to offer it to Monster Truck enthusiasts. And like many of the other bodies currently offered by Pro-Line, it is available out of the gate for the most popular size monster trucks.
Dodge Mega Cab Body Features:
A first for the R/C industry
Available for the two most popular size monster truck chassis
Paint then peel overspray film, detailed stickersheet, and window masks included
Made from .060 lexan – the toughest on the market.
Part #: 3219-00 (fits T/E-2.5-Maxx, Savage, Revo)
MSRP: $33.00
Part #: 3220-00 (fits LST, LST2, MGT, Warhead, Genesis)
MSRP: $34.00
Talk about the new Proline dodge mega cab body in our Body Shop forum.