Pro-Line's Ford F-650 Body for the MGT, LST, TNX and Genesis trucks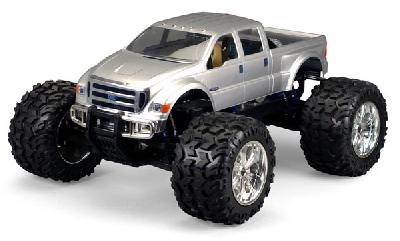 You want big? Well now you have it. Introducing the newest, biggest Super Duty F-Series Ford truck ever built – the F-650.
With today's monster trucks getting bigger and bigger, it only makes sense for the bodies themselves to parallel. The F-650 brings semi-truck influence to the largest passenger truck of today. It's bull-nose front end, full four door cab, long bed, and aggressive styling make it a trucks enthusiasts dream.
The decal sheet features cleanly finished-off headlights and taillights, grill detail, door handles, latches, and Pro-Line and Ford logos. The F-650 is ready for truckin' through grass, dirt, mud, sand or snow. This heavy weight will get the job done no matter what the size.
For those of you that are real hardcore R/C'ers this next item from Proline is for you, well that is if you have a hitch on the back of your truck…
PLUGZ custom hitch covers for 2" trailer receivers by Pro-Line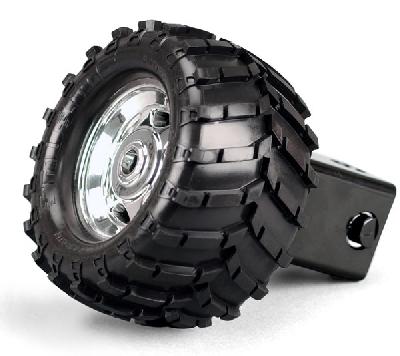 Are you sick of looking at that empty receiver hitch? Are you tired of that rustic look staring you in the face every time you walk behind your vehicle? Or do the current receiver covers on the market not fit your lifestyle? If any of those are the case, then check out Pro-Line's line-up of PLUGZ hitch covers; they are made for anyone who has a 2" trailer hitch receiver.
There are three versions to choose from: the Paddle tire for all you sand slingers, the aggressive v-tread Masher tire for all you Average Joe truck fans and the 40 series Road Rage tire with spinner attachment. All wheels are fully licensed on Weld Racing Outback chrome wheels and are fully assembled.
Installation is easy. Simply slide in to receiver and lock into place as you would a standard receiver hitch.