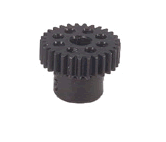 Precision Racing Systems now offers a line of Pro-Lite touring gears specially designed for competition electric touring cars.

The PRS Pro-Lite touring gears are 100-percent machined for superior precision and reliability. The Pro-Lite spurs feature lightening holes to reduce rotating mass. The touring spur gears are specially made to mount to most touring car layshafts, including the hard-to-fit Xray T1 Factory kit with the 3-screw hub. The Pro-Lite spur gears are available in even tooth counts from 96 to 134 tooth in 64 pitch; a limited selection of 48 pitch gears are also available.

The PRS pinion gears are stamped with the tooth number for easy identification. The pinions are made from aircraft-grade aluminum with a hard coat black anodize. They will fit any motor with a 1/8 motor shaft and are available from 15 tooth to 60 tooth in 64 pitch.