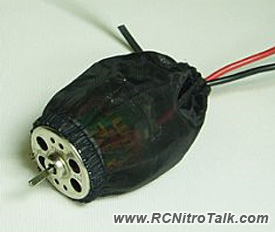 Check out the new pre-filter from Outerwears – a water repellent pre-filter for electric R/C motors. The pre-filter doesn't restrict the airflow to the motor while helping protect the electric R/C motor from debris such as sand, dirt and water splashes.
The new Outerwear electric R/C motor pre-filter is held in place with an elastic fixture and zip tie closure around the wires.
Available in Black, Blue, Red, Yellow, Orange, Purple, and Lime Green.
Part #: 20-2450 – Outerwears electric R/C motor pre-filter
MSRP: $14.95
Discuss the new Outerwears pre-filter in our RC Engines and Motors forum.