RCTalk is supported by our readers. When you purchase through links on our site, we may earn an affiliate commission. Learn more
The new JR Z-1 joins together two brands that the racing world has come to depend on. The KO transmitter provides you with all of the pure control that you can possible need. Couple that with JR's synthesized electronics, and you have the high-end racing radio you have been waiting for.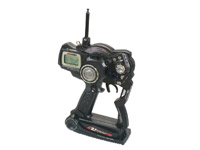 3 Channel, 9 model memory Synthesized FM radio system for RC Racing use.
JRP374075 Z-1 Synthesized Racing Radio System
Specifications:
Channels: 3
Modulation: FM
Band: 75
Servos: None
Receiver: RS310 Synthesized
Model Memory: 9