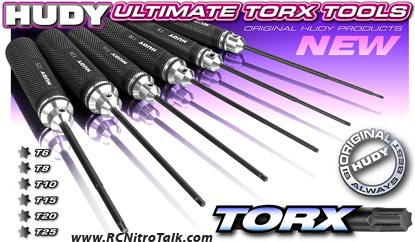 HUDY has increased it's line of professional R/C tools, this time with a set of Hudy Torx Screwdrivers. The new HUDY Torx screwdrivers have hollowed, lightweight duraluminum handles with a coated anti-slip grip. The HUDY Torx Screwdrivers handles also are marked with grooves according to the size of the tip or you can order an optional color-coded plastic caps so you can easily identify the size of the tool at a glance.
The tip of each HUDY Torx Screwdriver is CAD-designed made of from special world-renowned, top-secret, self-developed HUDY Spring Steel, designed to keep its shape for a long time and to allow exceptional torsion.
HUDY Torx Screwdriver Part Numbers:
140060 HUDY Torx Screwdriver 6 x 120 mm (T6)
140080 HUDY Torx Screwdriver 8 x 120 mm (T8)
140100 HUDY Torx Screwdriver 10 x 120 mm (T10)
140150 HUDY Torx Screwdriver 15 x 120 mm (T15)
140200 HUDY Torx Screwdriver 20 x 120 mm (T20)
140250 HUDY Torx Screwdriver 25 x 120 mm (T25)
140061 HUDY Torx Replacement Tip 6 x 120 mm (T6)
140081 HUDY Torx Replacement Tip 8 x 120 mm (T8)
140101 HUDY Torx Replacement Tip 10 x 120 mm (T10)
140151 HUDY Torx Replacement Tip 15 x 120 mm (T15)
140201 HUDY Torx Replacement Tip 20 x 120 mm (T20)
140251 HUDY Torx Replacement Tip 25 x 120 mm (T25)
Discuss the new HUDY Torx Screwdrivers in our Tool Talk forum.