RCTalk is supported by our readers. When you purchase through links on our site, we may earn an affiliate commission. Learn more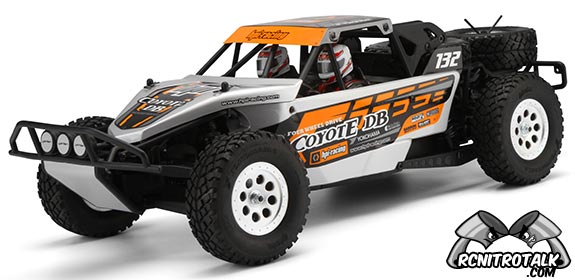 The HPI Coyote DB uses nothing but the finest grade, high-impact nylon plastic on the most critical areas of the truck – from the bumpers to the super beefy a-arms and everything in between. HPI's industry known strength and durability makes the HPI Coyote DB friendly for all, and most of all – a lot of fun!
With a four wheel drive system, driving the HPI Coyote DB is made easy. Drivability testing has rendered extremely impressive results for the Coyote DB. Gain even more power by adding a brushless motor system and the stability and control is still there! The HPI Coyote DB simply drives really well in the loose dirt. When traction breaks loose and the rear end of the vehicle is swung out and on-throttle, the truck remains controllable. Bottom line, this 4WD technical feature adds to the overall fun factor.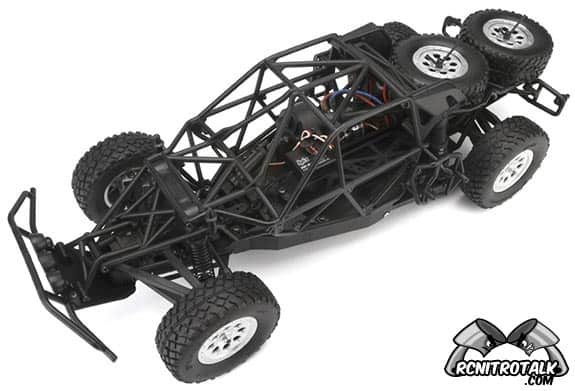 HPI Coyote DB Features
Realistic looking Desert Buggy body
Officially Licensed Yokohama Geolandar Tires
The scaled looks of the truck are topped off with a detailed, driver and co-driver interior set
Two lightweight faux-spare wheels/tires are mounted in the truck bed for realistic desert buggy looks
4WD for high grip and the most traction on any surface combined with shaft drive durability
Tough metal gears differentials for strength and durability
Tough Steel Dogbones on all four corners for maximum durability
High strength aluminum front uprights and rear hubs provide amazing strength and durability
4-wheel independent suspension soaks up the ruts and bumps of desert terrain
Oil filled shocks for smooth suspension dampening
Easily adjustable threaded shocks for quick ride height changes
The included adjustable slipper clutch protects the drivetrain and can be adjusted to suit track conditions
A complete set of ball bearings is included for drivetrain efficiency and low maintenance
Front and rear skid plate bumpers for realistic looks and crash protection
Adjustable body mounts to help fine tune the body height and width
High strength nylon tub chassis for durability
Complete interior roll cage for scale looks and crashprotection
1.9" wheels with 12mm hex hubs allow you to use a wide variety of aftermarket wheels
Industry standard 12mm hex hubs for compatibility with a wide variety of optional wheels
Realistic looking desert buggy suspension arms for high grip and scale looks
Extremely durable and brushless ready drivetrain
The Firebolt 15T Motor provides plenty of power – from speed runs to competing at your local track.
Window box to show scale appearance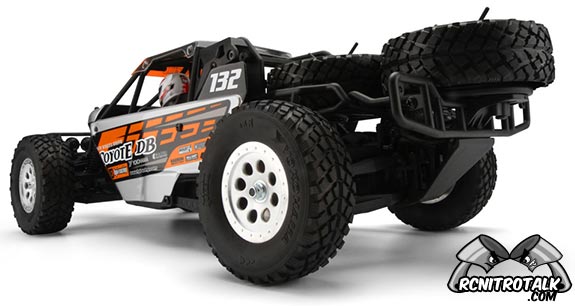 Part #: 107978 – HPI RTR COYOTE DB
MSRP: $492.00