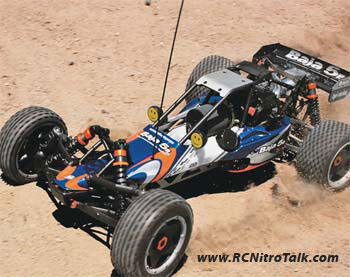 It's been rumored now for a while, however only recently has HPI Racing made it official that there is going to be a HPI Baja 5b SS buggy. In fact Tower Hobbies already has the large scale buggy listed for $919.99 with an availability date of "Mid Oct".
The new HPI Baja 5b SS large scale buggy will feature many hop-ups found for the HPI Baja 5b RTR already included with the HPI Baja 5b SS. Features such as heavy duty deadlocks, heavy duty dog bones. The HPI Baja 5b SS will also include a larger Fuelie 26cc gas engine as well as thicker shock shafts and improved rear shock tower.
Part #: 10610 – HPI Baja 5B SS Kit w/Clear Body
As HPI releases more information about the HPI Baja 5b SS but as they do you can bet RCTalk will let you know!
Discuss the HPI Baja 5b SS buggy in our Large Scale RC Forum.