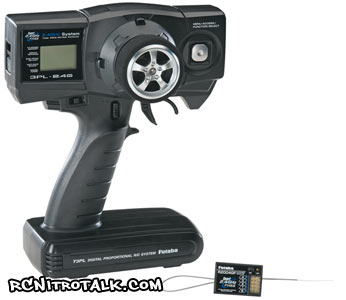 The Futaba 3PL 2.4Ghz radio is an easy to program spread spectrum radio system that's affordable for car, truck and boat drivers. The Futaba 3PL offers all the dependability advantages of 2.4GHz control, along with three proportional channels and a 4th channel for special mixing. Frequency-hopping technology eliminates interference, resulting in worry-free operation. The 3PL 2.4GHz FHSS is a perfect starter radio system for anyone!
Futaba 3PL features
3 proportional channels plus 1 switched (non-proportional) channel.
Simple push-button programming.
10-model memory.
4WS mix for crawling and brake mixing for 1/5 scale models.
Throttle fail-safe, steering EPA, servo reversing and dual rates.
Includes an R2004GF 2.4GHz receiver.
Part #: FUTK1300 – Futaba 3PL 2.4GHz FHSS radio system
MSRPl: $149.99
Available: early September