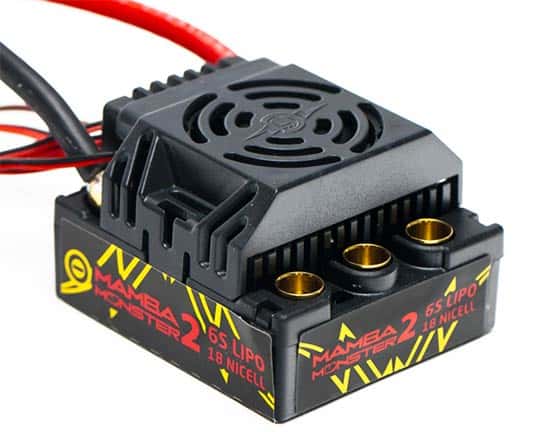 FINALLY… a waterproof ESC from Castle Creations that doesn't require home made mods or techniques that often voided the warranty. The Mamba Monster 2, you can now run your vehicles through the morning dew, down the muddy road, across the soggy snow or just about anywhere else you'd be interested in running a 1/8th scale RC buggy or truck!
The Castle Creations Mamba Monster 2 is intended for on-road, buggies, truggies and monster trucks running up to 6S LiPo and tipping the scales at up to 15lbs. The innovative new case allows for fan changes, if necessary. Solder posts now also permit users to change battery wire length and direction as needed! As always, the Mamba Monster 2 offers industry-leading software functions and USB programming capability via Castle Link USB adapter (free with included coupon). Remember, the fan is not water proof, so users need to remove the fan before they head out into wet conditions.
Legal mumbo jumbo Castle wants you to read:
Although Monster 2 and Castle brushless motors are waterproof, they can corrode when exposed to corrosive materials, such as salt water. Always rinse the ESC and motor with clean water after exposure to corrosives or dirt. While the motor and controller may be waterproof, we suggest users confirm that the rest of their vehicle, including the batteries, servos, radio and chassis are also waterproof before exposing them to liquids of any kind.
Mamba Monster 2 Specs
Input voltage: MIN: 2s LiPo; MAX: 6s LiPo
Max continuous amperage: 120A (full throttle continuous operation with cooling airflow)
BEC specifications: User selectable output between 5 and 7 volts
Operating environment: Waterproof* design allows for use in nearly any environment.
Brake: Proportional
Reversible: Yes – with lockout
Size: L: 1.86″ (47mm) x W: 2.19″ 56mm) x H: 1.33″ (34mm)
Weight: (without battery connector soldered to ESC) 3.93 oz (111.5 g)
Part #: 010-0108-00 – Castle Creations Mamba Monster 2 ESC
MSRP: $199.99