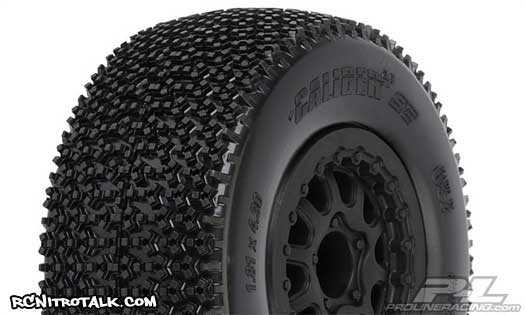 This is a pair of Caliber 2.0 SC 2.2″/3.0″ M2 (Medium) Tires Mounted on Renegade Black Wheels (2) for Slash Rear, Slash 4×4 Front or Rear and Blitz Front or Rear. Short course trucks have become class leaders at many tracks around the nation because it's fun and there's a class for everyone. For those of you that want the most out of your short course truck, the superstar Caliber 2.0 tread is ready for you to leave stock in the dirt.
The Caliber 2.0 SC takes tire technology to the next level by optimizing traction, control, balance, and tire wear with its dual-stage design and wider contact patch. The smaller top pin penetrates through loose dirt while delivering unbelievable side and forward bite. The base pin works as a support for the top pin while acting as a dual-stage design once the top pin is worn down. You can rely on the base pin for greater tread life wear and it works well on those tracks that are prone to blue-groove or have a super clean surface.
Caliber 2.0 SC Tire Features
Dual-stage pin design for exceptional tread life
Wider contact patch for improved traction in all conditions
Small top pin for light to heavy loose dirt
Base pin extraordinary on hard-packed/blue-groove surfaces
Square-lug technology throughout the tread design
Non directional tread design
Made from M2 (Medium) compound
Mounted on Renegade Black Wheels
Long life/lightweight closed cell foam inserts included (Gray Supplemental Foam Inserts required when mounting tires on Stock Traxxas® wheels or other step down wheel designs)
Made in the USA!
Fits:
Slash Rear
Slash 4×4 Front or Rear
SCRT10 Front or Rear
Blitz Front or Rear
What's Included:
Mounted Caliber 2.0 SC 2.2″/3.0″ tires (2 pcs)
Closed Cell inserts (2 pcs)
Renegade Black Wheels (2 pcs)
Part #: 1176-13 – Proline Caliber 2.0 SC 2.2″/3.0″ M2 (Medium) Tires Mounted on Renegade Black Wheels