RCTalk is supported by our readers. When you purchase through links on our site, we may earn an affiliate commission. Learn more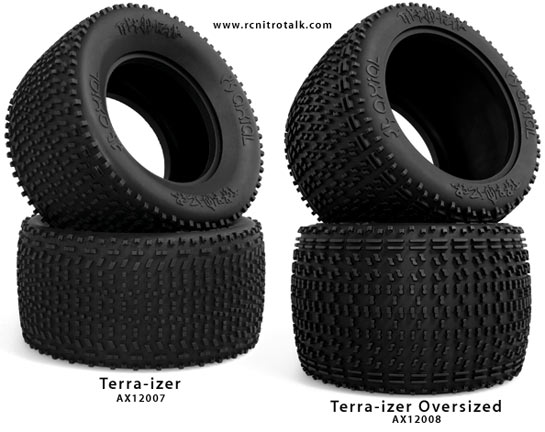 Get ready to tear up the track with the new Axial Terra-izer tires. The Axial Terra-izer and Terre-izer Oversized was designed using successful professional motocross tire tread concepts and successfully adapting them to the R/C Monster truck environment. The block pattern in the center of the tire is similar to what you might find on a pro racers motocross bike, while the side blocks have been optimized to provide constant traction even when the vehicle is at extreme lean angles and still allow forward bite to the racing surface. All this adds up to improved traction on medium packed track conditions.
The Axial Terra-izer and Terra-izer Oversized features low profile sidewalls which reduces flex in turns and special stepped inner foam helps keep the tire shape consistent on the track. The super sticky soft race compound makes them perform that much better.
Axial Terra-izer and Oversized Terra-izer features:
Super sticky soft race compound
Based on professional motocross tread concepts
Angled side blocks for increased traction in turns
Best suited for medium packed track conditions
Low profile sidewall reduces flex in turns
Stepped inner foam keeps the shape of the tire consistent during running
Outside Diameter: 147mm
Inside Diameter: 80mm
Width: 75mm
Outside Diameter (oversized): 144mm
Inside Diameter (oversized): 93mm
Width (oversized): 89mm
Part #: AX12007 – AxialTerra-izer Monster Truck Tire
MSRP: $28.00
Part #: AX12008 – Axial Oversize Terra-izers Tires
MSRP: $28.00
Head on over to Axial's website to view their complete line of r/c tires or join the discussion abuot the new axial terra-izer tires in our General Nitro Talk forum!