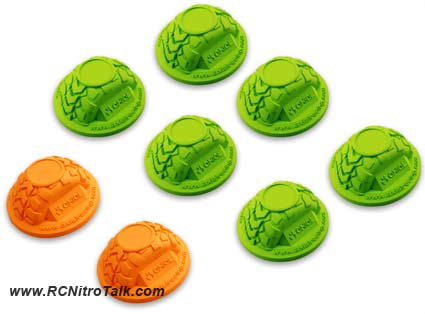 Tired of buying tennis balls and cutting them in half to use for your RC rock crawling course? Well Axial has a solution for you. The Axial gate markers, these markers are available in bright green and orange making them very easy to see and the different colors allow you to differentiate between starting, finishing and progress gates. The Axial rc rock crawling gate markers also feature directional tread-like pattern to direct drivers in the right direction. Sold in a set of 10 and in pairs.
Axial Gate Marker Features
Perfectly sized for both 2.2 and mini rock crawler competitions
Open area on top of marker allows writing of gate number or start/finish designation
Size: 2″ dia. x 1″ H (51.5×23.5mm)
Part numbers and suggested retail prices
AX12012 – Axial Gate Marker – Green (2pcs)
MSRP: $4.00
AX12013 – Axial Gate Marker – Orange (2pcs)
MSRP: $4.00
AX12014 – Axial Gate Marker Set (10pcs)
MSRP: $17.00
Talk about the Axial RC Rock Crawling gate markers in our RC Rock Crawling forum!