Associated XP High-Voltage Servos
RCTalk is supported by our readers. When you purchase through links on our site, we may earn an affiliate commission. Learn more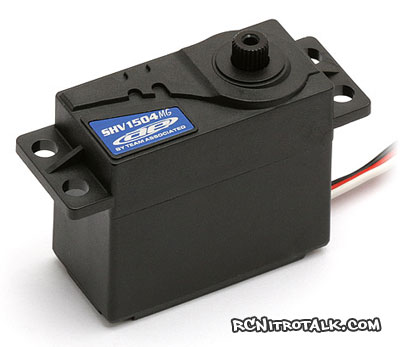 Team Associated's new XP Series High-Voltage servos feature updated motors and electronic circuitry that are designed to withstand the rigors of high-voltage operation in nitro vehicles.
A metal gear version (MG) is perfect for use as the steering servo while the standard version is suitable for controlling the throttle. Even though they are designed to run with 7.4V, they can also be used with standard 6.0V NiMH receiver batteries and are also perfect for use as the steering servo in electric vehicles. In fact, the SC10 RTR comes equipped with the SHV1504MG.
XP Series High-Voltage Servo Features
Reliable, high-torque motor
Impact resistant material
High-tech, lightweight design
Precision manufacturing and assembly
Heavy-duty metal gears (MG version only)
Torque (oz-in) 6.0V/7.4V: 41.7/54
Part #: 29131 SHV1504 Servo
MSRP: $16.99
Part #: 29132 – SHV1504MG Servo
MSRP: $20.99
Discuss the new Associated XP High-Voltage Servos in our Radio Gear forum.