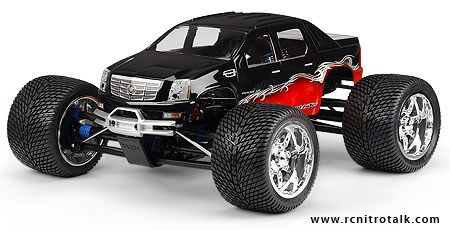 The Cadillac Escalade EXT has become the design that all other utility / truck blends strive to attain. Full four-door design coupled with a truck bed, the EXT is the new automotive trend. Sharp, crisp bodylines and ultra-unique grill area, Pro-Line's version of the EXT captures the very essence of its true scale counterpart.
The carefully sculpted lines fully transform your thrashing and bashing machine into a sleek cutting edge cruiser that is ready to make its presence known. The exceptional detail adds to the rugged style and attitude that only the Cadillac reputation can appreciate.
So if you want to add selection and performance to your daily beater, check out the new Proline Racing 2007 Cadillac Escalade EXT for the MAXX™, REVO®, and Savage trucks. Your Monster Truck's performance, appearance and reputation depend on it!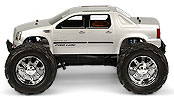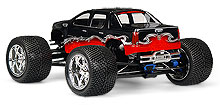 Proline Cadillac Escalade Features:
Performance, function and style
Tough / lightweight .060 lexan
Complete with window mask, paint-then-peel overspray film, and crystal clear lexan
Fits MAXX™, REVO®, and Savage
Part #: 3222-00 (2007 Cadillac Escalade EXT for Traxxas T/E/2.5/3.3-MAXX, Traxxas REVO, and HPI Savage)
MSRP: $33.00
Part #: 3224-00 ( 2007 Cadillac Escalade EXT for Associated MGT, Losi LST, Losi LST2, and CEN Genesis)
MSRP: $35.00